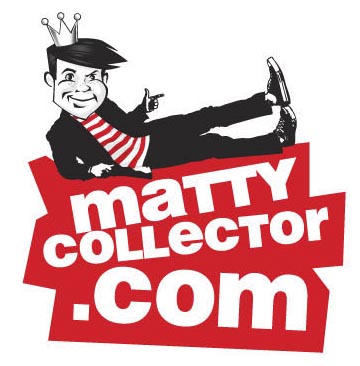 Another month has come and gone, and that means another round of "Ask Matty" answers at AFB! This month we cover the make-up of future DCUC releases at retail, plans for any Mattycollector DCUC items beyond Club Infinite Earths, the future of Filmation designs in MOTUC, Voltron issues and more!

Over to Matty!

-------------

Q: (from Dr Terrific) One of my all time favorite DCUC figures is Jonah Hex. I see different details in the paint and sculpt each time I look at it. Who was behind this character's design and was his appearance leveraged by the timing of the movie?
A: This was all the Four Horsemen! They tend to make these type of design choices.
Q: (from Aquaman71) I am actually excited about the DCnU figures to a point. Will there be variants (classic versions) of characters released with the new line? I know this will result in some re-releases, but it would give classic collectors something to look forward to at retail.
A: To clear up a consistent rumor, our retail offering won't be strictly characters from the "New 52". You can expect to see a wide variety of characters (and character versions) offered within the line.
Q: (from Andy) Now that Filmation characters seem to be on the table for MOTUC, can we expect to see Filmation-styled repaints of existing characters as well as characters unique to the Filmation series?
A: From the initial feedback we have heard from fans, they are not interested in straight repaints being included in the subscription. To offer figures in Filmation decos we would look for another avenue to deliver these (like we had with the now ended DCU vs MOTU 2 packs). But at this time we do not have an avenue like this locked in.
Q: (from fishmilkshake) Are there any Mattycollector exclusive items for DCUC currently in the works that will be offered outside the Club Infinite Earths Sub?
A: Yes, but you will need to wait and see. We are also working on ways for subscribers to combine these items with their sub shipments to save on shipping overall.
Q: (from an AFB Facebook Fan) I'm worried about the spring-loaded "one touch auto transformation" feature which "transforms" the parts of Voltron into the individual Lions. What is being done to ensure the springs don't wear out? Will this feature restrict the articulation on the legs of the Lions?
A: We as well are very aware of concern for the spring life of the Auto Transformation feature in the Classic Voltron Lions. We are making sure that the product integritey (sic) is above and beyond mattels (sic) standards (AFB's note: Hopefully these standards are higher than Matty's proofreading standards!). The legs are still very poseable and have the nice ratcheting joints so that the poses they hold are very secure.

Want to give your own answers? You discuss this at the AFB Forum, and you can comment on this post to enter the October AFB Comment of the Month Contest!

You can also add your thoughts to our future Matty Q&As either here or at the forum - please join in! The next Ask Matty will be on 1 Nov due to New York Comic Con.

Until next time!